InDec
SPECULATIVE PRODUCT
"Every year, 1.7 million tons of furniture products reach the end of their lives, about 26 kg per capita."
Problem

In a dystopian future, furniture production has all but ceased due to the EII (Environmental Impact Initiative) to stop global destruction. Citizens of society inhabit sterile concrete dwellings, and are only allowed a bed, a table, and a set of chairs. A room without color or personal flare makes for a sad existence. Unless...
Solution

How might we
design an
interior decorating experience
for a society who
no longer has access to physical decorative products
? InDec is a
speculative device
that provides users with a holographic interior decorating experience.
Context
Senior Project

Role
Full Stack Designer

Tools
Figma
Blender 3D
Photoshop
Final Cut Pro
After Effects

SPECULATION

A real problem in a fictional world


Background
One of my favorite fictional worlds of all time is the Blade Runner universe. I've sometimes found myself daydreaming about futuristic technologies and living in a neon cyberpunk paradise. I stumbled across a video called
The UI of Blade Runner
and was hooked. This inspired my senior project, and
InDec
was born.
Ethical issues of today and tomorrow

Fast furniture
is an epidemic of poorly manufactured items that are produced at a mass scale. These pieces are inexpensive to the buyer, and are made of such low quality materials that they
end up in landfills soon after purchase
. This in turn causes cyclical abuse to the environment, and eventually to us. The alarming statistics of furniture waste helped me to form a narrative, and gave me a problem that needed to be solved.
The future is digital
In my hypothetical dystopian future, physical decor is out of the picture; the only options left would be virtual or augmented reality decor. VR would require everyone in the space to have a headset, and when the user removes it, the experience disappears. With
hologram-based AR, the experience is permanent
. All of the users in the room can see and interact with the decor, and only one device is needed.
DISCOVERING USERS
Who is InDec for, exactly?
InDec's
users
are:
︎ Artists and curators

Artists and curators who appreciate art and unique visuals.
︎ Creative entrepenuers
Digital artisans who design and sell items on InDec's marketplace.
︎ Anyone???
InDec could be of use to anyone who values adding flair to their surroundings.
InDec's
Console
:
︎
Form
The shape of the device itself did not matter, as long as the holographic lens was circular. I played around with the idea of having the console in both a rectangular or a triangular shape, but ultimately chose to move forward with a
cylindrical
style after some more research.
︎
StyleMatte
,
minimal
, and
white
to match the concrete dwellings of the future and not clash with the space.
︎
Function
There is a
power button
that can turn the device on or off. There is both a
charging port
to charge the device while the discs have a
magnetic charging
feature. There are
5 charging lights
that illuminate green, which display how much charge the device has left in increments of 20%.
InDec's
Digital Interface
:
︎
Form
A user-interface projected into physical space
should not have a background
. Since a real life environment has depth and shadows, the user is able to see projected elements clearly when there is nothing else about the interface that competes for the user's attention.
︎
Style
Colors in holographic-projected interfaces are as light and bright as possible, due to the transparency of the projection. The most common colors used are white, neon blue, and neon green, and often times there are additional accent colors. Since the color choice is purely subjective, I decided to go with
white
with a
neon blueish glow
for InDec.
︎
Function
The best way to approach this was to tackle the fundamentals like any other UX/UI project; which prompted me to create
wireframes
from the user flow.
MOODBOARD

A visual language.
Although I was unable to fabricate anything physically, I did want to design InDec under principles of functionality and not just form. In other words, if this product existed– I would want it to work.



I took a lot of design cues from from science-fiction media and a few similar products that are on the market today.
INDEC IS BORN

Matte, minimal, ultramodern.
Meet InDec, your personal interior decoration device!


The physical console
The main console consists of the hologram-lens on top, five lights that represent charge-level, an on/off button, and a USB port for charging. Beneath that are 3 discs, that attach to the main console via magnetization. Each disc has a hologram lens on top and are powered via the magnetization. They are controlled through the console alone, and do not have any interface controls of their own.

The digital interface
The holographic dashboard operates within three sections. The floater on the left hosts the navigation, the middle will display a list of the items that are in the room at present, and the window on the right will showcase the selected item and allow the user to rearrange that selection or clear the disc.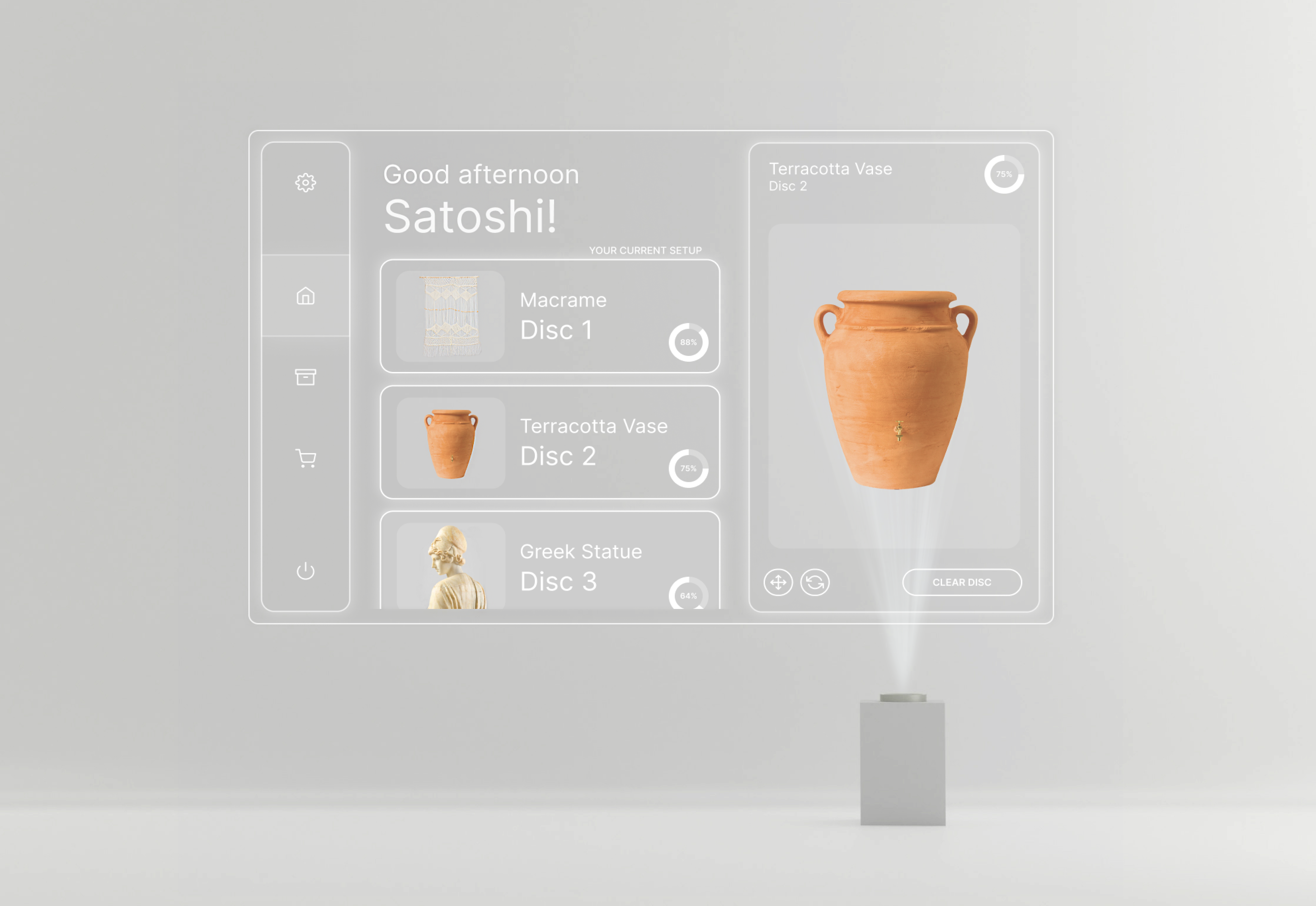 TAKEAWAYS

Challenge accepted, and accomplished.
InDec was a rewardingly challenging project and I am more than happy I attempted it. Although I was able to design and visualize both parts, there's still so much of InDec's concept that I wished I had time to examine.

Some takeaways:

︎ Don't over-do the visuals.
I don't need a graphic or video for every single feature InDec has, I just need to get the point across enough to explain to viewers what InDec does. Less is best!

︎ Re-design the charging port!
I hadn't put much thought into the location of the charging port and went with aesthetics instead of UX. The port's location is poor UX. I plan to iterate on this and design a magsafe-esque charger for InDec.

︎ "Thinking will not overcome fear, but action will."
I was intimidated by 3D software, but learning Blender for this project set me on a new path of excitement and design possibilities. Blender is now part of my toolbox, and I'm no longer scared to tackle Unreal Engine either!